Kilimanjaro Mountain "The Roof of Africa"
One of the "Seven Summits" the mighty Mount Kilimanjaro is an everlasting magnet for adventurers and mountaineers.
Nestled between the border of Kenya and Tanzania, the highest mountain of Africa and the highest freestanding mountain in the world lures travelers from all corners of the globe to conquer its magnificence. We invite you to come and try Mount Kilimanjaro trekking for yourself. Experience the pride of making it to the top of Kilimanjaro, and the feeling of freedom you get when standing on the top of Africa!
The golden rule here is to pack as lightly as possible. You will have a porter carrying a lot of these items, but it is important to pack lightly so they can carry additional items that will be necessary for the climb. Plus, you don't want to be stuck with a lot of heavy baggage that you probably won't use. Below is a gear-list required to bring on your climb
Technical Clothing
1 – Waterproof Jacket, breathable with hood
1 – Insulated Jacket, synthetic or down
1 – Soft Jacket, fleece or soft-shell
2 – Long Sleeve Shirt, light-weight,
1 – Short Shirt, light-weight,
1 – Waterproof Pants, breathable (side-zipper recommended)
2 – Hiking Pants
1 – Fleece Pants
1 – Shorts (optional)
1 – Long Underwear
3 – Underwear, briefs (moisture-wicking fabric recommended)
2 – Sports Bra (women)
Headwear 
1 – Brimmed Hat, for sun protection
1 – Knit Hat, for warmth
1 – Balaclava, for face coverage (optional)
1 – Bandana (optional)
Handwear 
1 – Gloves, warm (waterproof recommended)
1 – Gloves, thin
Footwear
1 – Hiking Boots, warm, waterproof, broken-in
1 – Gym Shoes, to wear at camp (optional)
3 – Socks, wool, or synthetic
3 – Sock Liners, tight, thin, synthetic, and worn under socks to prevent blisters (optional)
1 – Gaiters, waterproof (optional)
Trekking Accessories
1 – Sunglasses or Goggles
1 – Backpack Cover, waterproof (optional)
1 – Water Bottle (Nalgene, 32 oz.)
1 – Water Bladder (Camelback type, 3 liters)
1 – Towel, lightweight, quick-dry (optional)
1 – Pee Bottle, to avoid leaving tent at night (recommended)
Stuff Sacks, Dry Bags to keep gear dry and separate.
Trekking Equipment
1 – Sleeping Bag, warm, four seasons*
1 – Trekking Poles, collapsible (highly recommended)*
1 – Headlamp, with extra batteries
1 – Duffel bag, 50-90L capacity, for porters to carry your equipment
1 – Daypack, 30-35L capacity, for you to carry your personal gear
Other Kit List
• Prescriptions
• Sunscreen
• Lip Balm
• Insect Repellent, containing DEET
• First Aid Kit
• Hand Sanitizer
• Toilet Paper
• Wet Wipes (recommended)
• Snacks, light-weight, high calorie, high energy (optional)
• Electrolytes, powder, or tablets (optional)
• Camera, with extra batteries (optional)
• Paperwork
• Trip Receipt
• Passport
• Visa (available at JRO)
• Immunization Papers
• Insurance Documents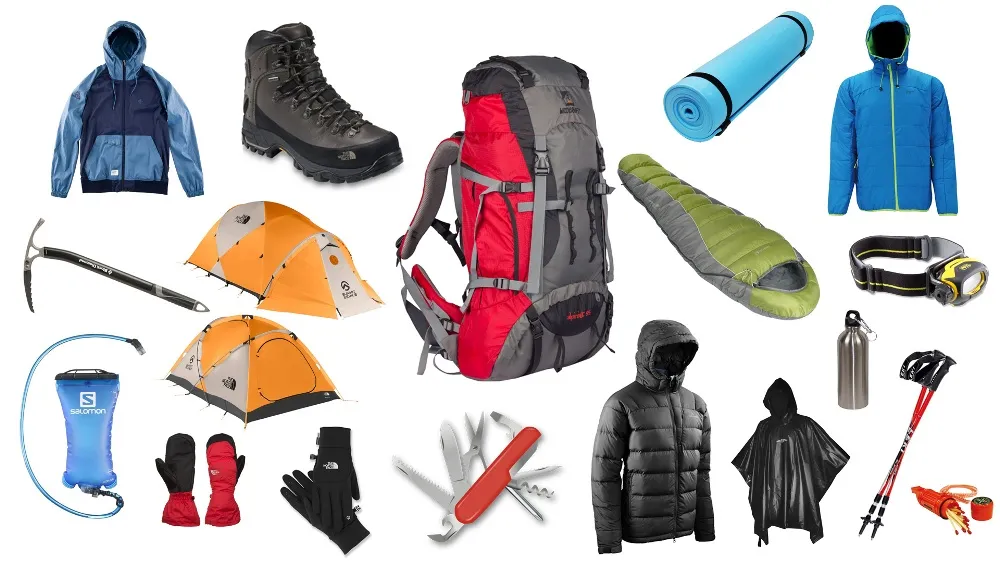 BOOK WITH US NOW!