Family Safari
Take your loved ones on the greatest adventure: a family safari in the vast and unspoiled wilderness of East Africa. With a highly skilled guide at your side, discover that the African bush truly is the finest family playground.
Families traveling with Kiwoito Africa Safaris will be warmly welcomed and taken care of by our highly experienced on-the-ground teams, who ensure exceptional levels of guest safety and satisfaction.
Our family-friendly options
From expert guiding and personal attention to unmatched accommodation and service, everything is focused on planning an African safari experience the entire family will enjoy. Children will love being outdoors, searching for iconic African animals, and experiencing the world the way nature intended.
A family safari is a great way to expose your kids to nature and wildlife without having to worry about the boredom they may experience on a regular safari tour. Family safaris are tailored to keep the excitement of being on wildlife and birdlife-spotting safari alive and interactive for everyone.
Some of our camps offer specially tailored activities to keep younger visitors educated and entertained. Among other exciting things, they may learn how to identify animal tracks, go on guided bush walks and find out about the customs of East Africa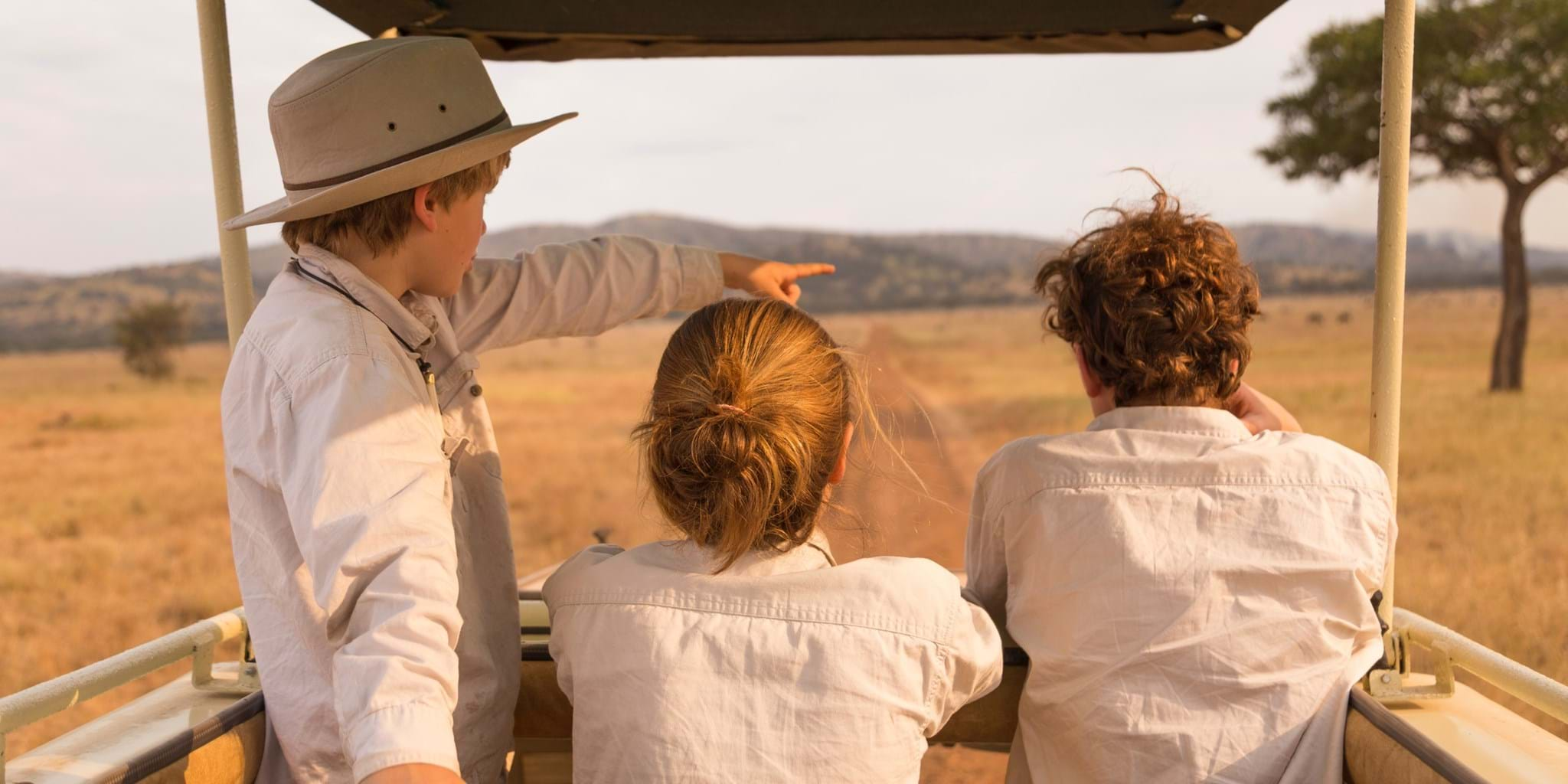 Getting true value out of your holiday investment means having an itinerary that will keep your kids alert and captivated throughout your family adventure. That's exactly what we can offer you.
When customizing a family safari for kids, we know which activities are best to include and which to exclude in order to combine good wildlife sightings with keeping children interested and entertained.
Safari for kids younger than 5 years old
We don't recommend taking infants or children younger than 5 years old on a safari. Most establishments aren't infant or toddler-friendly, and the heat and the dusty game drives may make your baby feel very uncomfortable.
Less is more on a family safari in Africa
When arranging family safaris, we divide the day into two parts. During an early-morning game drive, your guide will focus on wild cats and other interesting larger wildlife to ignite your kids' imagination. This will give the guide an opportunity to interact with and involve the children during the drive, keeping their attention. To make sure that the youngsters are kept interested and cheerful, we recommend that you keep driving distances as short as possible or at least break up the day with some interesting stops.
During the second part of the day, we introduce an activity that takes place outside the vehicle. A short walk, an animal footprint-identifying session, or a game-tracking activity is spot on for sparking interest. Cultural experiences are great safari activities for both kids and parents, and they make a good change of pace.
Keeping the kids involved on a family safari
Teach your kids how to use binoculars and give them a chance to look for animals and birds. We provide animal and bird checklists to help the youngsters make lists of what they have seen and what they are still looking for.
Why not combine your wildlife safari with some time on the beach, where the family can swim and play. Africa has a string of wonderful beach options and we can easily customize your family safari to incorporate a trip to the seaside.
Accommodation and dining options for a safari with kids
An accommodation that provides a buffet option is always a family safari favorite, making it easy for kids to eat and drink what they like (and as much of it as they want), and keeping their spirits up and bellies full. A la carte dining is a bit restrictive for children, offering them limited food options.
Every family is different. Speak to us – we'll design the best possible family safari experience for you and your children.
A Life-changing Experience for Your Family
Enjoy activities built for kids, parents, and grandparents alike as well as our most popular cultural and wildlife staples. Soccer matches, Maasai storytellers, wildlife scouting, and legendary landscapes abound on this unforgettable family adventure.